Species
Macaws
Origin: South and Central America
Lifespan: 70 - 80 years in captivity depending on the species
For prices & availability please click here
Macaws are among the most intelligent and colourful of parrots. They possess the most powerful beaks in the parrot world. Nuts like Brazil and Macadamia are not much of a problem for them. All large Macaws have powerful Voices which can be heard a long way away.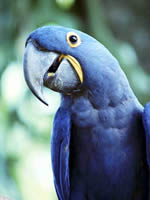 Hyacinthine Macaw (Anodrohynchus hyacinthinus) is the largest of all parrots reaching up to 42 inches. Its uniformly blue-purple with a bright yellow skin around the eyes and beak. There are more birds of this species in captivity then in wild. This parrot is an endangered species. Very rarely available (for a very large sum of money). In our opinion it should not be kept as companion bird and every effort should be made to breed these magnificent birds. Only for very experienced and specialist bird keepers.



Buffon's Macaw (Ara ambigua)
Also known as the Great Green Macaw, Some specimens of this species can nearly reach the size of Hyacinth macaw, normally between 34" to 37". These species of Macaws are known for there gentle nature and are often referred to as the gentle giants. Quite similar to Military Macaw in appearance with bit more of yellowish green feathers but much bigger. A rare but an amazing bird. These macaws make wonderful companions.
Blue Throated Macaw (Ara glaucogularis)
In some parts of the world this bird is also known a the Caninde Macaw. This Macaw is often confused with the Blue and Gold macaw. Almost the same size as Blue and Glod macaw but very different. Please look at the pictures closely and see the difference in throat colour and markings on the face. Not commonly available. In our opinion a good pet Macaw if you can get one.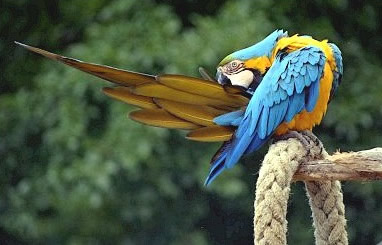 Blue and Gold Macaw (Ara Ararauna) This is the most popular companion macaw. It can reach to 33-34 inches. These birds have exceptional temperaments. They learn to talk well and will get on with most people if socialised properly when young.
Green Winged Macaw (Ara chloroptera) Some specimens of this species can nearly attain the size of Hyacinth macaw. In our opinion this is the top ranking companion macaw of all. Although it has an enormous beak it is surprisingly gentle in nature. Brightly coloured it's a superb macaw with every thing to recommend it.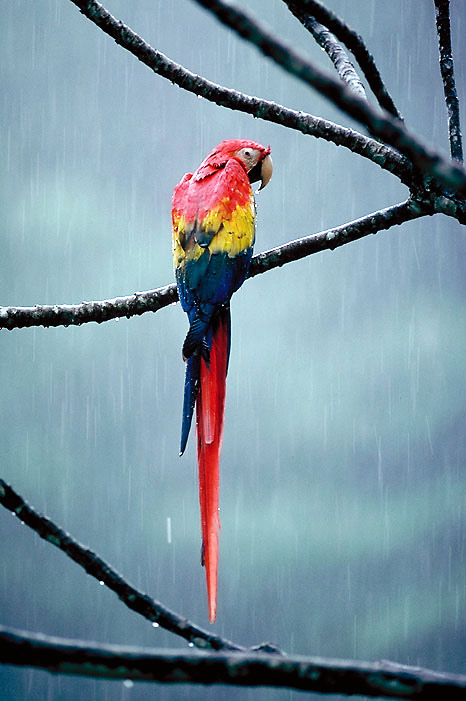 Scarlet Macaw (Ara macao) If you like vivid colours, it would be very hard to beat the beauty of this species. Roughly the same size as Blue and Gold Macaw. Even hand reared birds are less reliable pets (temperament) then Blue and Gold and Green Winged Macaws. Many become nippy and aggressive as they approach maturity. Of course there are exceptions.
Military Macaw (Ara militaris) Slightly smaller then its above mentioned cousins. It can grow up to 28-29 inches. Mainly a yellowish shade of green, this bird has its own beauty. Very smart and full of life. These birds are always playing up to mischief. They make great companions. If you want a pet packed with personality, Military is a superb choice .
Most of smaller Macaws are mainly green. These include Sever Macaw (Ara severa), Red Bellied Macaw (Ara manilata) and Hahn's Macaw (Ara nobilis). For more information and availability of the above mentioned macaws please contact us.


| | | |
| --- | --- | --- |
| Sever Macaw | Red Bellied Macaw | Hahn's Macaw |
| | | |
Hybrid Macaws.
We do not encourage practice of cross breeding. This chart is only for information and reference.
| | | | |
| --- | --- | --- | --- |
| Blue & Gold | X | Scarlet |  Catalina |
| Blue & Gold |  X | Green wing | Harliquin |
| Blue & Gold | X | Hyacinth | Caloshua |
| Scarlet | X | Green wing | Ruby |
| Scarlet | X | Military | Shamrock |
| Scarlet | X | Buffon's | Verde |
| Catalina | X | Scarlet | Camelot |
| Camelot | X | Scarlet | Capri |
| Green wing | X | Military | Calico |
| Military | X | Blue & Gold | Miligold |
| Military | X | Buffon's | Miliffons |
| Buffon's | X | Green wing | Buffwing |
| Green wing | X | Calico | Cameo |
| Catalina | X | Green wing | Flame |
Harliquen Macaw